Brought back to light during the 1910 excavation campaign led by archaeologist Paolo Orsi in the area of the so-called Temple of "Casa Marafioti", this remarkable statue group in polychrome terracotta, representing a young rider held by a sphynx, has been dated back to the second half of the V century b.C. and, as it was already noted by Orsi himself, probably belonged to the acroterion decoration of the Temple of "Casa Marafioti".

[...] non č da dubitare che esso decorasse il sommo fastigio del tempio e fosse disposto lungo l'asse principale del colmo del tetto; era cioč un acroterio principe [...]

[...] it is not to be doubted that it decorated the highest apex of the temple pediment and was placed along the main axis of the roof ridge; therefore it was a central acroterion [...]

(Paolo Orsi, Notizie degli scavi di antichitŕ, Serie V, Vol. VIII - Supplemento 1911 - Roma 1912, Pag. 47)

Regarding the identification of the young rider, it is supposed that he could be a Dioscuros, as already suggested by Paolo Orsi right after the discovery of the statue group; such identification is regarded as very likely also by contemporary scholars, however due to the existence of some unsolved interpretative issues, the work is commonly referred to as The Riding Ephebe or Young Rider, also known as Marafioti Horseman.

During the years following the discovery and under Orsi's supervising, the statue (that was found broken in more than 180 pieces of different size) was reassembled and underwent a first restoration which provided the integration of the missing parts.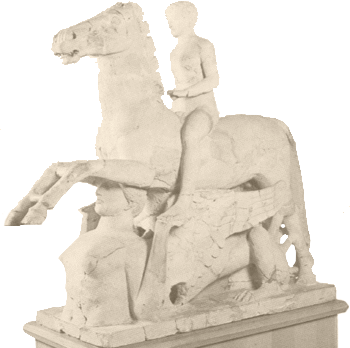 It was later involved in small and sporadic works of conservative restoration, but only recently (from June 2015 to March 2016) and thanks to the meticulous restoration work carried out by Giuseppe Mantella and Sante Guido, with the supervision of Simonetta Bonomi (scientific project leaders: Rossella Agostino and Maurizio Paoletti) it has been possible to bring back the Marafioti Horseman to its former glory while, at the same time, paying the deserved tribute to its unknown maker.
Nowadays the statue is preserved at the National Museum of Reggio Calabria along with many other archaeological finds discovered in the area of the Temple of "Casa Marafioti".